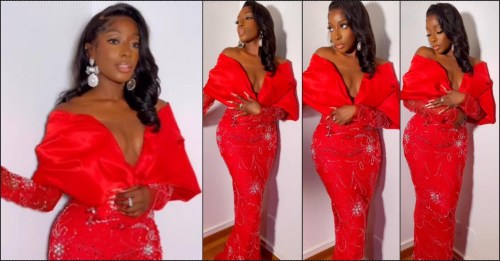 The Drama between Nigerian media personality, Ms. DSF, and a Lagos stylist continues, as she decides to respond and tell her side of the story.
We earlier reported that a Lagos designer dragged Ms. DSF online over an unpaid debt of about 200 thousand naira.
In response to the online dragging, DSF sternly warns the said designer to desist from using her name for clout before she decides to punish hip for the cheap fame he seeks.
She went on the release chats between them, where it could be clearly seen how apologetic the designer was, after delivering the dress late and still had to do last-minute adjustments on her.
In her words; It's actually been a while since I dragged anyone but this one? I go drag am like baby gen rubbish. This clown showed up when the event was almost done & started pinning the dress on me.
It's crazy how he was sooo apologetic but is online writing rubbish? If you see that boy help me slap am I beg. This idiot didn't stop apologizing yesterday. But today is online looking for clout. If I dash you slap. Rubbish.
See posts: