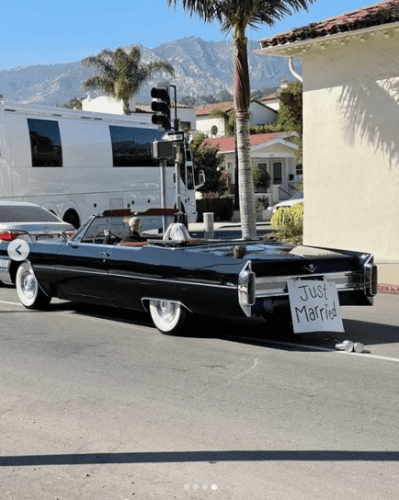 In a little less than 2 years after courting, Travis and Kourtney finally make their relationship legally official.
The couple, who got engaged in October 2021, exchanged vows with their small circle of loved ones in attendance. However, Kourtney's famous sisters and children were not spotted at the venue.
Kourtney and Travis decided to take it up a notch.
The 42-year-old reality star and 46-year-old drummer were seen driving off in a vintage black controvertible with a sign that said 'just married' hanging off the bumper.
Kourtney was seen wearing a short white dress with a plunging neckline and a red heart adorned the bodice. She had a traditional veil over her head.
Sources have it that, the couple will still have a lavish Italian wedding with friends and family in attendance.
A close friend Kourtney, tells E! News, that Kourtney is over the moon and so excited to start this next chapter with Travis. They were excited about this day and madly in love.
A 2nd source notes they have plans for a wedding for close family and friends to take place soon and "wanted to make it legal" beforehand.