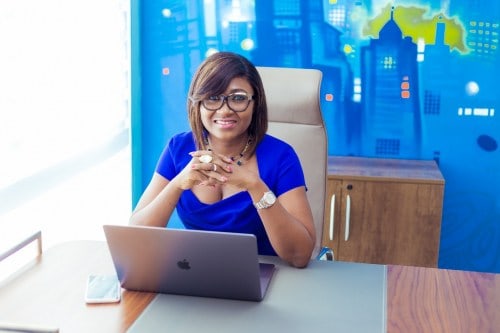 Mary Njoku has shared her tips on how to fish out a fake surgeon.
The wife of the ROK studios weighed in on the death of Porthacourt big girl, Christabel that resulted from complications from a botched surgery.
According to her, Nigeria is a "Safe Haven" for bad IJBB – (I Just Got Back) surgeons.
She wrote;
Nigeria is a safe haven for bad IJGB cos-surgeons. Small accent and you are in business. Thanks to gullible Nigerians who make sure they continue Killing people by BLAMING THE VICTIMs.
SAD.
To those very few doctors who come home save lives. Thank you. ?
See post:
View this post on Instagram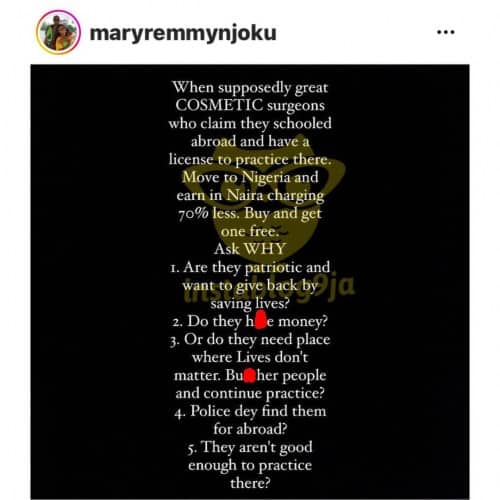 In addition, she wrote;
When supposedly great COSMETIC surgeons who claim they schooled abroad and have a license to practice there. Move to Nigeria and warm in Naira charging 70% less. Buy and get one free. Ask WHY:
Ate they patriotic and want to give back by saving lives? 2. Do they have money? 3. Or do they need place where lives don't matter. Butcher people and continue practice? Police dey find them for abroad? 5. They aren't good enough to practice there?
The post "How To Identify A Fake Surgeon" – Mary Njoku first appeared on tooXclusive.
source
https://tooxclusive.com/how-to-identify-a-fake-surgeon-mary-njoku/