Last Updated on Aug 28, 2022 | 23:53 by Tommy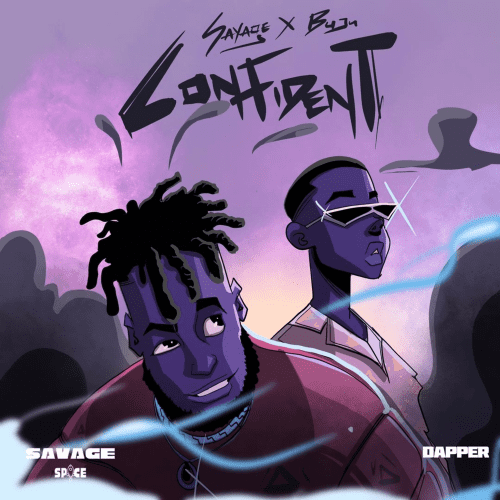 Here's the infectious track, CONFIDENT by Savage and Buju.
Uprising Nigerian rapper, Savage teams up with raving singer, Buju to deliver his breakthrough song titled " Confident ".
This smash hit paved way for his debut EP- Utopia. You can STREAM that on Audiomack… Click HERE!.
When asked about how the track Confident came to play, Savage said;
"We are talking to a lady and she's just shunning us, and I'm trying to let the lady know, I'm confident, I'm rich, I can take care of you, just love me. As long as I have this Hennessy in my hands, I'll tell you everything that's inside my heart. At the same time, we're trying to promote African confidence.
The way the visuals are, we could have easily put in ladies twerking, doing all of that. But with 'Confident'—I get a lot of tags [on social media] and people really don't see the girly parts of 'Confident.' When I see people post 'I'm Confident,' and they tag the song, it actually [mirrors] the idea behind promoting African confidence.
African people are actually very confident, whatever we want to do. I'm African. I love being African. I'm proud to be African. So, I like to portray the fact that I'm African, I don't want to be anyone else; I love this skin. I've been a huge fan of Buju since 'Spiritual.' Every time Buju sings, it's like he's worshiping God. His voice is crazy; I can listen to Buju all day. I love his personality as well."
Notable Lyrics for CONFIDENT
Girl, as long as the Hennessy for my cup never finish
Wetin I feel, I go talk am finish
See girl, if you'll give me one minute
I'll convince you, I am that confident
Been waiting on you for a couple minutes
No make oroma con dey see me finish
Girl, if you will give me one minute
Girl, I'll convince you, I am that confident..
Listen below;
Savage and Buju presents the official music video to Confident… Watch and Enjoy!!!
The post Savage, Buju – Confident (Song) first appeared on tooXclusive.
source
https://tooxclusive.com/download-mp3/savage-buju-confident-song/