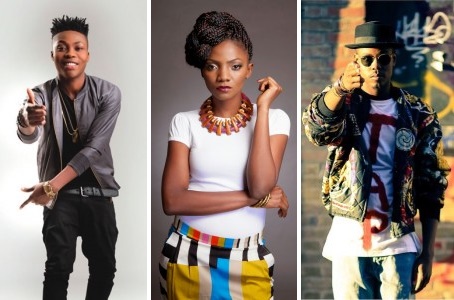 I'm excited!
I can yap all I care, 'bout Reeky Banks and Simi considering I'm a proud soldier of the #SimiArmy as well as a crack #Reekaddict but the intriguing thing is how I'm not-so-much a rap fan but LadiPoe does a great deal for me. These three smart heads are the new school redefinition of music on the Nigerian scene today.
I've only ever seen this kid perform live once. And right there where I sat, I kept asking myself 'who that son?' Poe, who made our list of upcoming rappers to watch out for (this was back in 2013), has successfully crossed over to being the brightest of new generation rappers who we've got our gazes and stares heavily fixated on. Forgerrit, MI and his cohorts might be wrestling for the kingship title but this generation, Poe rules supreme while feeding you a healthy dose of his passion for the hip-hop culture and balancing the diet with elements of a local craft. Have you heard Ko Ye Won? Ah! Then you know bros didn't come out to play. If not for anything, for the obvious reason that his deliveries are not your typical chip-off-the-ol'-block kind that have amassed an impressive representation on and off street. LadiPoe is uber-talented, no doubt and while a couple others bicker about the consequences tied to their chosen genres (yes, I'm referring to the LOCAL RAPPERS!) Poe is working hard at tailoring his desired success as he stands out the crowd.
Simi is unstereotypical, otherwise a radical. A rare brand of the underdog fashion, otherwise a non-conformist. For many of you that don't know, Simi had this chart-topping tune as far back as 2007, Ara Ile where she laced her vocals of a canary and got many elderlies boogeying down to her afropop number. You know that's one hard feat to achieve now, talk more of 2007! Then there was Chocolate Brown, a contemporary urbane sound on which she addressed some juvenile ills and it wasn't anything like the 2face style that we'd come to know. It was all her. Simi. So after the pristine genius she displayed on her Restless EP, which was a cover of some internationally recognized and award-winning songs, X3M Music knew so well to seal their deal. Simi thankfully, is not another Tiwa Savage or a Waje-wannabe. She's the same ol' astounding niggaress that she's always been with a whole lot more to give than we've even seen. Not only is her voice purely soothing, her craft is boundary defying and it is an earnest hope that she doesn't dilute it on the basis of factors tied to the Industry. Or will she? #JambQuestion perhaps!
For Reeky TomTom aka Longest, the story is slightly different. Some time ago, I happened upon a post that made reference to a tweet (I think it was his first ever) and it talked 'bout where he was gon' be a couple of years from then. This is 2015, and not only is he associate member of the Supreme Mavin Dynasty (arguably the biggest record label in West Africa), he's also recipient for the Rookie of the Year award at the recently concluded Headies and had been featured on the hook for 2014's record-breaking track, Dorobucci. At this point, glory road can only lead one way. UP! While I choose to ignore some of the rising star's physical choices, one thing I certainly cannot overlook would be his frisky high tenor with inducing local tones in it. Many have compared his sing-style and versatility in the afro genre to that of Wizkid, the days of his prime. Although Don Jazzy pulls all the score points for the stellar production on his more popular records, Reeky has shown that even though he isn't pushing the envelope in this chosen craft, he can and will continue to deal with a level of sagacity, appraising himself of newer trends as evidenced in his new record Katapot – an outstanding effort, which many clearly missed the absence of Jazzy's vocals.
Written by Jim Donnett
@jimancipation
The post Reekado Banks, Simi, Poe: Standing Out or Outstanding? appeared first on tooXclusive.
source
https://tooxclusive.com/reekado-banks-simi-poe-standing-out-or-outstanding/