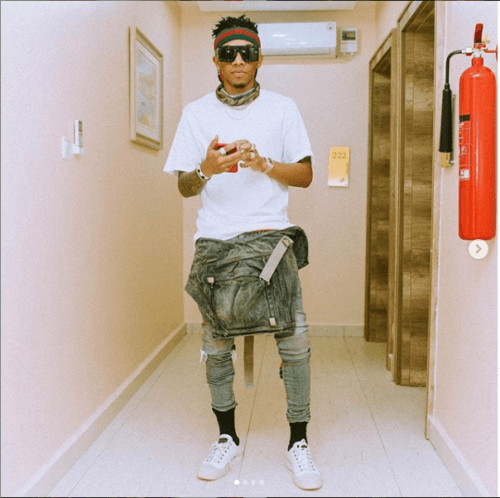 Tekno is no doubt one of the most talented music artistes in Africa. In-fact, what makes him stand out is the reality that he is multi-talented.
Tekno is a music artiste, a record producer, a great dancer and a multi-instrumentalist, which makes him the 'complete package.' He could make spectacular music in the confines of his room without having to consult any other music intellect or colleague.
Tekno made a mark on music fans with his first major music single, "Holiday" featuring Davido in 2013. The song was quite big and it drew everyone's attention to the argument that another young music artiste had emerged to give a strong competition to the seemingly insurmountable dominance of Davido and Wizkid.
However, this wasn't the case until after over 2 years when Tekno refined himself, storming the industry in 2016 with some really monster & banging hit songs that were released back-to-back. Songs like "Where," "Pana," "Rara" and "Diana" were songs that banged throughout 2016, endearing him to music fans, thereby giving him an opportunity to have his own core fans who adore him and place him so high up to the league of the greatest artistes in Africa during that period.
Tekno's exploits in 2016 made him a huge name in other African countries, thereby making him a hot property who was seriously in-demand. He got a lot of shows in so many African countries which worth thousands upon thousands of US dollars (millions of naira). Apart from that, he was beginning to get tipped as the number one artiste in Africa during that time with the singer sweeping almost every award that was available to be given away in that year.
His status as a digital artiste leveled up greatly as he was a major player on music streams and YouTube (reason why "Pana" is one of the most streamed Nigerian music video). One other action that cemented Tekno's status as an elite African artiste was his "4 million dollar" Sony music contract which he signed at the organization's New York headquarter in the same year of 2016.
However unfortunately for music fans and Tekno, that high hopes for the singer wasn't realized as he went AWOL after a few music releases in 2017. Tekno tried so hard to make an explosive comeback with songs such as "Yawa," "Jogodo," "Woman," "On You" and a couple more but all to no avail. These songs didn't do all that badly as they were favourites of many music fans, but it didn't do so greatly like his 2016 records which made a lot of people feel Tekno already got past his best years.
Fast-forward to summer of 2019, a video interview of Tekno by controversial Cool FM OAP, Daddy Freeze appeared on the internet in which he revealed the challenges he faced that made him stay away from music for a while and almost terminated his career as a musician.
He revealed in the interview that he was struck by a strange illness which did so much damage to his vocal box, preventing him from being able to talk not to talk of sing. He disclosed that he felt miserable as a result of the illness and thought for some period that he was going to lose his career as a musician. He added later on that his faith and vicious strength was what gave him a boost in confidence not to lose hope which then made him spend so much money to be well again till he almost got broke.
Watching and listening to the interview, music fans got thoroughly sympathetic and emotional which made them forgive Tekno's inactive participation in the music industry over the past months after realizing the illness played a major role in not being able to get quality content from the superstar.
Just few days after the interview, Tekno resumed his duty post as he dropped a banging new single; "Agege" featuring Zlatan Ibile. The song which tends to follow the Zanku trend is currently raving among music fans for mixed reasons. One which is for the fact that it is a potential banger which could be popular on the streets and outside of it in a short-while and the other which is as a result of the controversy surrounding its video.
You all would be familiar with the situation on hand concerning the video of a moving truck carrying dancing half-naked girls which has caused a little eruption on the internet, well, it is a scene from the video of "Agege." With the industry known to be a proponent of the creed, "No bad publicity," people have now thought this controversy would help blow "Agege" and get Tekno back to the level he deserves within the industry since controversy plays a major role in the rise of artistes to the apex position of music within the industry.
Tekno has promised to get back to the status he once was in the music industry. After the whole medical challenges he's faced, he now seems to be ready to storm the industry again with powerful music on a consistent level which already looks like it's started with "Agege."
This piece then begs the question – Is Tekno On The Verge Of Taking Back His Position As No. 3 Biggest Artiste In Nigeria With The Release Of "Agege"?
Written by Taiwo Oluwafemi
Twitter: neefe_nawti
Instagram: neefe_nawti
The post Is Tekno On The Verge Of Taking Back His Position As No. 3 Biggest Artiste In Nigeria With The Release Of "Agege"? appeared first on tooXclusive.
source
https://tooxclusive.com/is-tekno-on-the-verge-of-taking-back-his-position-as-no-3-biggest-artiste-in-nigeria-with-the-release-of-agege/