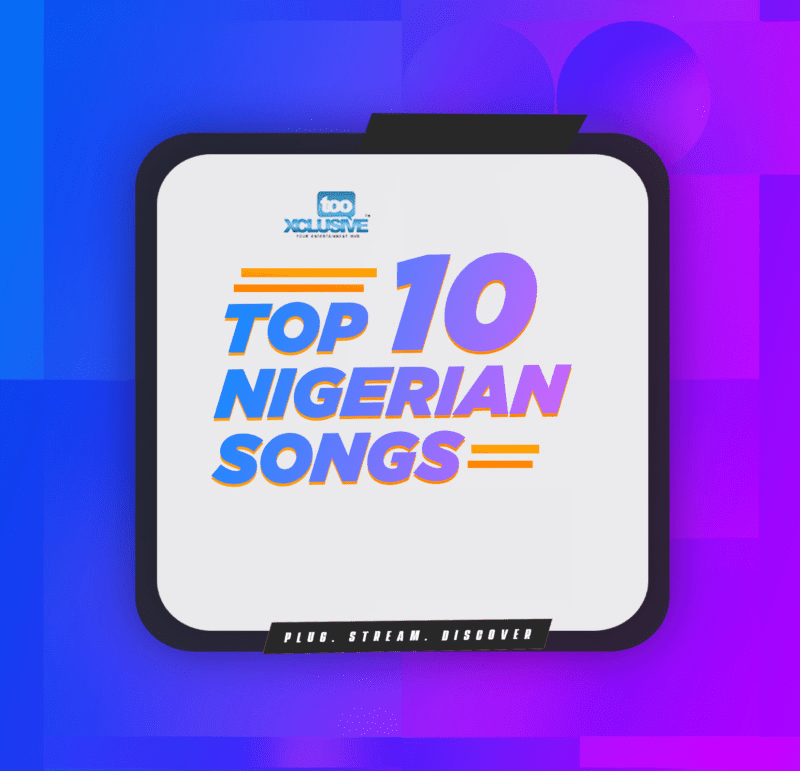 Week in, week out – the Nigerian entertainment sector has produced hits that are both admirable and extraordinary. Therefore, in a bid to make your week more exciting with the help of our weekly playlist, we only provide you with the best music. Here are the top 10 Nigerian songs to add to your playlist this week.
Someone – Fireboy
The year's first song from Fireboy DML, a member of YBNL Nation, is called "Someone". The lovely tune was made accessible on digital platforms in May 2023. The sensual and lovely ballad dubbed "Someone" features Fireboy DML singing about his own romantic relationship. The song's vibe is nicely captured in the track artwork.
In the song's chorus, Fireboy DML makes explicit requests from his love interest. The talented artist recalls certain mistakes and empathizes with them wholeheartedly. You will hear a profound element of EDM style of music as Fireboy proves his amazing music prowess to his fans and music lovers worldwide on "Someone". This is an excellent record from Fireboy that deserves a spot on your playlist this week.
Oganigwe – Zlatan ft. Odumodublvck & Jeriq
Nigerian Big Boy, Zlatan, who is a well-known musician in the country, has delivered once more with his song – Oganigwe – which features JeriQ and OdumoduBlvck. Remarkably, Chech is the only producer who deserves credit for this Oganigwe's production.
You will be missing out if you don't add this excellent tune, Oganigwe by Zlatan to your playlist ASAP. You know, to make it even better, the talented artist enlisted the help of JeriQ, a superstar of Nigerian music, and Odumodublvck, a raving Nigerian rapper, singer, and songwriter.
In this song, OdumoduBlvck and JeriQ's distinctive and alluring voice commands attention and effortlessly carries the listener through each verse and chorus. The production is excellent, combining contemporary instrumentation with traditional African rhythms to produce a sound that is both classic and modern.
Soweto Remix – Victony ft. Omah Lay & Tempoe
Notably, we heard two remixes now; one with Rema and Don Toliver which is still buzzing to date; now we have the Omah Lay feature out there making waves too. Music enthusiasts will love listening to "Soweto Remix" since it has vocals from another talented performer, Omah Lay, who gives the song its own unique flavour.
Remarkably, before the release, Soweto's snippet was so casually fascinating when it streamed on social media, especially TikTok. The two young Afrobeats musicians – Victony and Omah Lay – create a masterpiece that will excite fans of Nigerian music and beyond. If you are looking for a fresh, bouncy, and catchy song to add to your music playlist collection this week, "Soweto (Remix)" by Victony with Omah Lay and Tempoe is a perfect option.
HALLELUJAH – CKay ft. Blaqbonez
Here is a brand-new hit song called "HALLELUJAH" by prolific viral hitmaker, CKay and Nigerian rapper, Blaqbonez. You can rely on us to always give you the best content; this song is expected to be without a doubt one of the top hit projects released this week.
Ckay's most recent hard project, HALLELUJAH, is a follow-up to his single with legendary rapper, Olamide. HALLELUJAH will undoubtedly reach the top of the charts because it is already generating waves. On "HALLELUJAH", which is an Amapiano-infused tune, CKay and Blaqbonez work together for the first time. This is really a remarkable song, you should really listen to the song and add it to your playlist right now.
Iyanya, who is a renowned musician from Nigeria, has come through with a new single as he astounds listeners and fans with his brand-new beautiful hit, "Sinner". The famous artist recruits the exceptional voice of BNXN fka Buju, a talented singer from his home country, as they combine to create a stunning song that will keep your playlist lively for days.
"Sinner" is Iyanya's third single to be released this year after "Plans" and the remix for "One Side" with Mayorkun and Tekno. The upcoming album by Iyanya will include the song – Sinner.
HOV – Rema
Talented Nigerian singer, Rema, serves up another hot track, which he names "HOV". This song is from his most recent studio album, Rave & Roses (Ultra), which came out in 2023. On the Rave & Roses Ultra album, where Rema adds four perfectly crafted records. Notably, HOV is described as one of the impressive tunes. In truth, every track on the Rave & Roses Ultra project is fire.
Remarkably, Rema has continuously released multiple hits since breaking into the market, this year, the Nigerian musician has climbed up so many global charts with his international collaborative song with Selena Gomez, Calm Down. The fans will absolutely adore hearing this song, "HOV", as it is very good. It's so good, your playlist would literally be on fire after your first listen.
Notably, one of Nigeria's top male vocalists, Wande Coal, has recently released a new hot song called "Let Them Know" from his upcoming album, "Legend Or No Legend". The new song is a follow-up to "Ele Daddy", which was his last hit and featured Haji Bank.
The song's well-written and catchy melody allows the vocalist to once again display Wande Coal's vocal versatility. You would most certainly be pressing the repeat button quite frequently when you add this to your playlist today. The days are becoming shorter as we wait for Wande Coal's upcoming record project to be released, but this is only the tip of the iceberg.
Outstandingly, talented producer, Kel P, produced the brand-new song "Let Them Know". This week, you should add this song to your playlist and take a listen.
Fate & Destiny – A-Q ft. Cobhams Asuquo
A-Q, who is a versatile Nigerian artist but well-noted for his rapping style, entered the studio with this magnificent soundtrack for the Cobhams Asuquo-featured record – Fate Vs. Destiny. This song can be found on the album "God's Engineering 2", which was released in the year 2023, as the tenth track.
God's Engineering 2 album, which features eleven strong and dope songs and features cameos from Blaqbonez and Cobhams Asuquo, is notable for capturing the attention of music lovers worldwide.
Notably, A-Q has made a significant contribution to the development of Hip-Hop music in Nigeria. The rapper has a sizable fan base that appreciates his talent. Nonetheless, the song, Fate Vs Destiny ft. Cobhams Asuquo, from the aforementioned album – which was shortlisted – is a must-have in your playlist.
Madem De Madem – Yaba Buluku Boys ft. Falz
Yaba Buluku Boyz – a group of South African hitmakers and musicians – has just dropped a new song called "Madam De Madam". After a few previously published tracks, this excellent tune is the newest addition to Yaba Buluku Boyz's discography this year.
Notably, Falz, who is a multi-award-winning Nigerian superstar, was featured in the great song, "Madam De Madam" and contributed some scorching verses that go perfectly with the lovely tune. For followers of both artists and admirers of African music in general, the collaboration between Yaba Buluku Boyz and Falz is a wonderful fusion of South African and Nigerian musical genres. Your playlist will definitely enjoy this beautiful tune this week
I'm Good – GuiltyBeatz ft. Hamzaa & Ms Banks
"I'm Good" is a thrilling song by Ghanaian DJ and music producer, GuiltyBeatz, with Ms Banks and Hamzaa. You will find that Hip Hop music is mixed with the sounds in this tune.
The two featured talented musicians – Ms Banks and Hamzaa – work together in a way that is nothing short of amazing as each contributes their own special flair and energy to the song. Notably, this is GuiltyBeatz's first song for 2023, and listeners will undoubtedly want to hear more. By carving out a specific market niche for himself, the brilliant producer has been able to successfully carve out a distinctive personality for himself.
Anyone who hears the song, I'm Good, which features Ms Banks and Hamzaa, will definitely enjoy this song. You can feel free to listen to, download this song and add it to your playlist this week.
The post Check Out 10 Nigeria Hit Songs You Should Listen To This Week appeared first on tooXclusive.
source
https://tooxclusive.com/check-out-10-nigeria-hit-songs-you-should-listen-to-this-week/