Controversial Nigerian singer and activist, Seun Kuti's arrest continued to make headlines after he physically assaulted a policeman.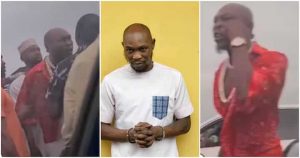 In a new development, Seun Kuti's manager, Ayo, has now explained what happened between him and the police officer.
While speaking exclusively with Potpourri on the phone, Ayo explained that Seun Kuti was driving on the third mainland bridge with his family when his car was hit from behind.
The manager maintained that the singer had been provoked by the uniformed man who was drunk while driving and hit his car. He added that the impact led to Seun's daughter to be in a sudden shock as she was visibly shaken by the incident.
Not stopping there, Ayo explained that rather than apologise to Seun, the police officer proceeded to start arguing with the music star after he had chased the truck and blocked it, forcing it to stop.
In Ayo's words: "On the said day, Seun was driving with his family on the third mainland bridge, when he was suddenly hit from behind, by a police truck being driven by an officer who was reportedly drunk. This act from the officer led Seun's daughter into a sudden shock, as she was visibly shaken by the hit. So, this made Seun pursue the truck, double-crossed it and forced it to a stop. When the police officer got down from the truck, instead of apologizing, he was arguing with Seun, which provoked him to slap the officer."
During the phone call, Ayo added that many people would have reacted the same way as Seun if their family was also threatened. He explained that policemen also provoke civilians and their immunity should not be a reason for misbehaving.
He said: "People should realize that men on uniforms also provoke civilians. Immunity is no excuse for impunity."
The post "He was arguing with him" – Seun Kuti's Manager Breaks Silence on Singer's Officer Encounter appeared first on tooXclusive.
source
https://tooxclusive.com/he-was-arguing-with-him-seun-kutis-manager-breaks-silence-on-singers-officer-encounter/