Nigerian rap star, Emeka Akumefule, better known as Blaqbonez, has said that he will settle down, but it would be a different type of marriage.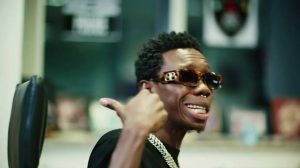 The Hip Hop act said that he does not want to be in the same room with his wife because of personal preference.
Blaqbonez stated this while appearing as a guest on The Nancy Isime Show, where he also tactfully tried shooting his shot, and said he would not mind having such arrangement with the actress if she is open to it.
The 'Haba' crooner said he and his wife would have separate rooms to cater to their individual differences.
He went on to cite an example of liking a dark room whereas his wife might be more inclined to prefer pink coloured room. The artiste also said he likes his bathroom to have a certain look and does not want to see things hung in different parts.
Furthermore, Blaqbonez said the separate room arrangement with his partner helps him keep up with his polygamous nature so that he will be having relations with other women without disturbing his wife.
He said; "I will marry but I will be in a different kind of marriage. I don't want to be in the same room with my wife. You'll have your room and I'll have mine. First aesthetically, what if I'm a batman and I want everywhere dark and batman ish, and you are a barbie princess.
You stay in that room and I stay in this. Also, it helps for my polygamous nature, I can be doing my Ps on the low without disturbing you."
The post "My wife and I can't sleep in the same room"– Blaqbonez appeared first on tooXclusive.
source
https://tooxclusive.com/my-wife-and-i-cant-sleep-in-the-same-room-blaqbonez/