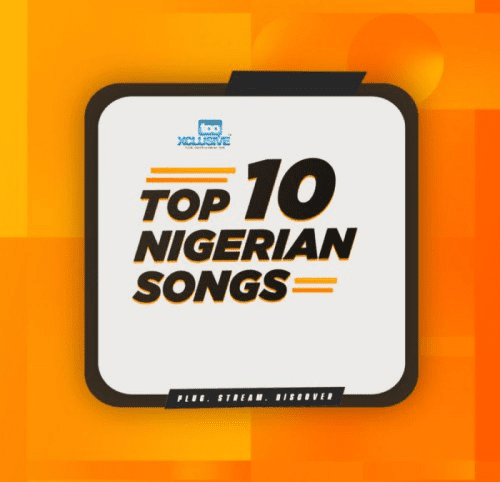 It's worth noting that the hits that the Nigerian music scene has consistently produced over the past few years have had an impact on the worldwide music industry and more attention has been on the genre recently.
This is why with the aid of our weekly playlist, we hope to liven up your week. You are well aware that we only offer you the best music available, and we have no doubt incorporated some of your favorite artists to our regular list. Take a look at our choice of the top 10 Nigerian songs to add to your playlist this week.
BNXN fka Buju – Pray
BNXN fka Buju who is a renowned Nigerian musician and songwriter has released a brand-new masterpiece song titled Pray. As BNXN describes the power of prayer via his artistic journey with his prior works, the record has an appealing and catchy instrumental that will leave its listeners wanting even more.
The song, Pray, is a masterfully composed work that highlights BNXN fka Buju's distinctive abilities. BNXN, often known as Buju, is a prolific performer, and "Pray" is merely the most recent release in his illustrious record.
The talented musician has continuously produced successful songs, which has helped him build a devoted listening fanbase. You can add his new smash hit, Pray, to your playlist this week, as the new music by BNXN fka Buju is doing well on charts and music platforms.
Davido – Unavailable
Just recently Davido released the song "Unavailable ft. Musa Keys" with different (5) versions as an EP – with Musa Keys' voice featured – much to the delight of his fans.
Since its recording and 2023 release, this particular song, Unavailable, has gained popularity and amassed a sizable number of streams on the platform. You know that his recently released, eagerly awaited album, "Timeless", contained the original version of the song "Unavailable".
Davido returned with "Timeless," his fourth studio album earlier, which featured international recording artists including Skepta, Angelique Kidjo, Asake, Focalistic, and The Cavemen, among others. He didn't stop there, the Afrobeats superstar went on to release an EP of his hit track on the album – Unavailable.
We love to see that Davido is having a good time and enjoying his flowers and milking the tunes. You should add the magnificent and beautiful tune, Unavailable, to your playlist today, you'd be glad you did.
CKay ft. Blaqbonez – Hallelujah
This new viral hit song is named "HALLELUJAH" by famous global hitmaker, CKay, and Nigerian rapper, Blaqbonez. You really need to add this new music to your playlist and enjoy the wave of the moment as this song is among the biggest Afrobeats hits that got released this month.
Notably, Ckay drops this hot single as a follow-up to smash hit single with illustrious rapper Olamide. HALLELUJAH is already creating waves, and it will certainly top the charts. CKay and Blaqbonez collaborate on the Amapiano-influenced song "HALLELUJAH" as they work with each other for the first time. You should definitely give this song a listen and add it to your playlist right away, we promise the track is a very outstanding one.
DJ Tunez ft Wizkid, Gimba – Blessings
Another hot track the dropped recently that you need to cop ASAP is "Blessings by DJ Tunez ft. Wizkid & Gimba". The sweet song includea vocals from Nigerian superstar, Wizkid and Gimba who is a fast-rising talented vocalist with a voice of gold. Notably, this is DJ Tunez's second entry for the year 2023, and I promise that you will be astonished by the magic they both worked on the track.
Remarkably, one can't help but listen to Blessings repeatedly as it sounds so addictive. The fact that Wizkid and Gimba were specifically invited to perform on this track by top-tier Nigerian act, DJ Tunez indicates that they are fully aware of the wonders they did in the studio. The song's co-producers are D3an, Smeez, and DJ Tunez. Plus, JM Films was the director of the official video that goes with the song, Blessings.
Kizz Daniel – Shu Peru
The top-tier Nigerian vocalist, Kizz Daniel, also made the music video of his amazing song, Shu Peru available as he dropped the new single. As you add this beautiful song to your playlist and listen, you'll find the singer's most recent song Shu Peru, features outstanding words and an incredible voice that demonstrates Kizz Daniel's lyrical skill and audience-connecting rhythms.
The production credits for the song "Shu Peru" goes to the top-tier musician, Rewardbeatz – he produced a masterpiece that perfectly blends with Kizz Daniel thanks to his amazing talent and enchanted fingertips. Enjoy this new music as Kizz Daniel entertains his fans and music lovers worldwide with Shu Peru.
Zinoleesky – Many Things
It's important to note that Zinoleesky is steadily building a name for himself. The rising star didn't waste any time in releasing his debut single, "Many Things", for the year 2023 and isn't showing any signs of slowing down despite being a featured artist on numerous songs that are still at the top of the charts.
With the song "Many Things", the Nigerian musician, Zinoleesky, makes a comeback. The song, released this year 2023, has a catchy tune and addictive lyrics that have been carefully crafted to captivate listeners and leave them wanting more. You should add this song to your playlist as everyone is getting more stuck on the rhythm every day.
Joeboy – Duffel Bag
Duffel Bag is a brand-new masterpiece by Nigerian superstar, Joeboy. Remarkably, this song's combination of Afro and Pop elements gives the tune an energetic pace and Joeboy provided the perfect catchy lyrics that will make you want to move your body.
Joeboy exhibits his musical prowess and his ability to craft tunes that re-engage listeners. We know the vibes and that's why he has been one of Nigeria's most sought-after musicians ever since the Afropop star initially rose to fame and has consistently delivered hit after hit. With songs like "Duffel Bag", the rising star, Joeboy, continues to leave his name indelible on the minds of many music fans.
Mohbad's magnificent studio record, "Ask About Me", is the first piece of music he will release in 2023. Notably, the genius behind the creation of this energetic song, Ask About Me, that we have here is Nektunez, a British-Ghanaian music producer and singer who is recognized for producing the most alluring sounds in music production.
Mohbad, who is a former signee with Marlian Music, is well renowned for his fascinating skills, which have paved the road for him in the Nigerian music industry.
In this music, Mohbad boasts about being unstoppable – you know, ask about him – yet the rising star appears with a positive outlook on life and his perfect pitch and vocal blending with the music is superb. You should add this awesome song – Ask About Me – to your playlist this week.
Ruger – Jounzing Boy
Nigerian singer-songwriter, Ruger, a member of the Jonzing Music collective, has just released a brand-new song called "Jonzing Boy" made available on all digital platforms on Friday, May 12, 2013.
This much-awaited tune, Jounzing Boy, is the most recent entry in Ruger's tremendous career – which already contains a number of hit songs that have won him a devoted music fanbase. Remarkable as Ruger once again demonstrates his extraordinary musical talent with "Jonzing Boy". You should add this amazing tune to your playlist this week as you have a good music party for yourself.
Magixx – Colors (My Baby)
Gifted Nigerian rising star, Magixx, releases this captivating euphony titled Colors (My Baby). It's amazing how Magixx shows off his incredible talents to the audience while fusing Afrobeat music on this song.
The Mavin Entertainment recording artist, Alexander Adelabu, better known as Magixx, really came through with his charming voice and charisma on Colors (My Baby), which was well-produced and recorded. Notably, the beautiful tune, "Colors (My Baby)", was produced by Vibez – an in-house Mavin music producer for Mavins. You need this superb entry into your playlist as Magixx takes his music listeners on an amazing trip on this tune, Colors (My Baby).
The post Top 10 Nigerian Songs To Listen To This Week May 2023 appeared first on tooXclusive.
source
https://tooxclusive.com/top-10-nigerian-songs-to-listen-to-this-week-may-2023/