A trending picture of popular singer, Oniyide Azeez aka Zinoleesky has gotten fans worried and questioning his health status.
The artiste was recently photographed with his parents and the image surfaced on social media, however, what attracted the attention of many was his appearance.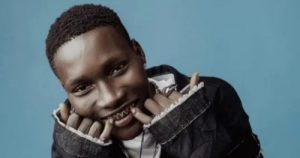 Zinoleesky's cheek bone were visible and he looked like he was recovering from an illness. The 'Kilofeshe' crooner also seemed to have lost more weight than usual.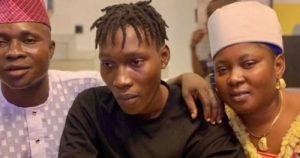 His father and mother were looking robust and beaming with smiles, whereas his facial appearance was dull and gloomy.
In reaction to the photo, many netizens opined that his love for marijuana is taking a toll on him and the effect is starting to manifest.
Taking to Twitter, music executive, Dami Adenuga said; "Zinoleesky has done what he promised his mother."
View the post:
See fans reactions online:
@briaSabi; He should be a model as well as singing he has the facial structure and the height
@Magabushofasia; Drug have made zino look rough unkept and anyhow he look so thin and his cheek is so inside really need a therapy
@am24only1; He had told us many things his mama told him but what did he promise his mother? To take a picture with her?
@mrbrainard58; People just judge you on your appearance on drug na how zino be before shey him get body when him enter music Industry ni
@samuel_udems; Zino isn't looking happy in this picture, Only God knows what's going on in His mind.
@akinolaOlanike1; Zino need Doctor attention…Good health is yours ijn
@_Onlygemini; Are you really sure this guy is fine medically ? Why always looking like this ! Happy for his achievements
The post "Zino needs a doctor" – Fans Worried as Zinoleesky Poses for Family Photo appeared first on tooXclusive.
source
https://tooxclusive.com/zino-needs-a-doctor-fans-worried-as-zinoleesky-poses-for-family-photo/