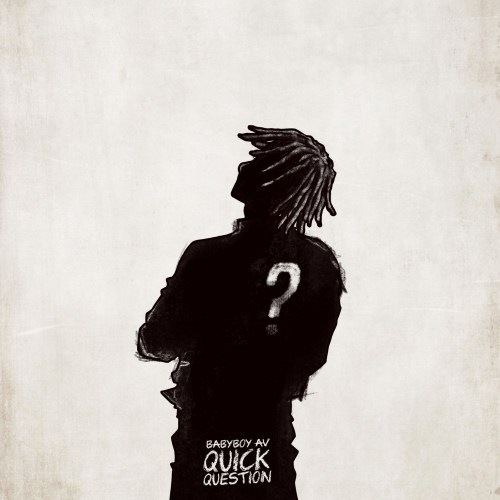 Renowned musical prodigy Babyboy AV catapults his sonic ingenuity to new heights with the highly anticipated release of his single, "Quick Question". Collaborating with the enigmatic and prodigiously talented piano-headed producer, Black Culture, the duo presents an exceptional Afrobeats masterpiece that is poised to dominate the charts in 2023.
Within the enchanting tapestry of "Quick Question," Babyboy AV fearlessly asserts his reign over the music scene, promising to immerse his audience in a lavish "five-star lifestyle" that showcases his creative prowess. The track exudes an introspective ambiance, beautifully enhanced by the haunting whistle chorus, ingeniously employed by Babyboy AV to evoke a deeply emotive response in his listeners.
In perfect harmony with the singer's inventive lyricism, Black Culture crafts an impeccable instrumental for "Quick Question," featuring a graceful guitar loop entwined with a rhythmic drum pattern reminiscent of the resurging nostalgic highlife genre. Babyboy AV stands at the forefront of a select group of musical visionaries spearheading this revival, with his long-standing partnership with Black Culture culminating in a string of hits, including the renowned tracks "No Dey Form," "Unbeatable," and "Wake Up," featured on Babyboy AV's debut EP, "Thug Love."
Building upon the success of his EP's eponymous track, "Thug Love," Babyboy AV astounds fans with the release of "Quick Question". As the maestro continues to carve his path towards an extraordinary and prolific year, the artist has tantalized audiences with hints of an upcoming body of work. Currently embarked on an extensive world tour, Babyboy AV has already mesmerized audiences in the United Kingdom and Sweden, with upcoming performances scheduled throughout Europe and the United States of America.
The post Babyboy AV Unleash Unprecedented Sonic Brilliance on, "Quick Question" appeared first on tooXclusive.
source
https://tooxclusive.com/babyboy-av-unleash-unprecedented-sonic-brilliance-on-quick-question/