Top Nigerian singer, David Adeleke also known as Davido has revealed that he almost sold his billionaire father, Mr Adedeji Adeleke's Rolls Royce to finance his music career.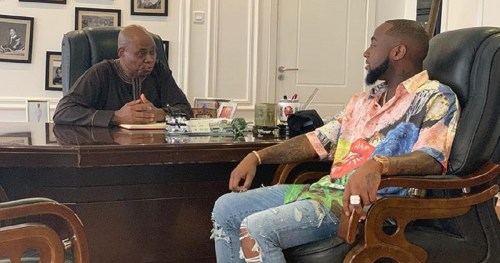 He said his dad was not willing to support him financially, so he sold the Television sets and furniture after breaking into his Atlanta home in Georgia, USA.
Davido made the revelation during an interview on ABtalks, as he recounted when he dropped out of school in the US to focus on his passion against his father's wishes.
According to the 'Unavailable' crooner, the incident happened when he had just blown up as an artiste and he wanted to continue doing music instead of schooling.
He said that he informed his dad that he wanted to move back to Nigeria but the man did not approve so he took matters into his own hands.
The singer explained that he dropped out for about a year before his father found out that he was no longer in school.
Davido said the last thing he almost sold was Mr Adeleke's Rolls Royce and the reason was because he felt that since the man did not want to fund his music, he decided to raise the money through other 'crazy' means.
He said; "So I blew up, remember I said that I told him I wanted to move back, but he disagreed. I ended up dropping out, he found out that I wasn't in school for like a year.
I broke into his house in Atlanta, sold all the TVs, old his furniture. I almost sold his Rolls Royce, because I was like 'yeah I want to do this music' but he didn't want me to, so I was like 'you know what?' I'm just about that crazy."
Watch the interview below:
The post I almost sold my father's Rolls Royce – Davido appeared first on tooXclusive.
source
https://tooxclusive.com/i-almost-sold-my-fathers-rolls-royce-davido/