Portable's third baby mama, Akinyanju Omobolarinde also known as Ashabi Simple, has said she is not with the singer for his money.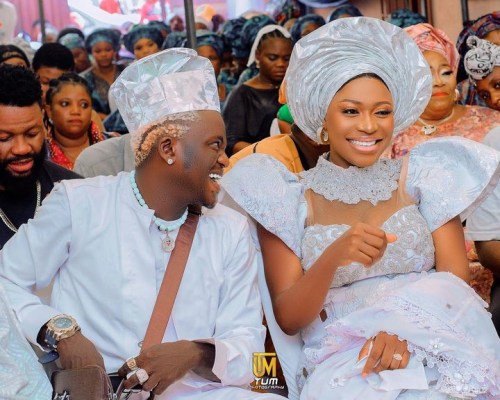 The actress who recently gave birth to a child for the artiste said she loves him because he is caring and supportive.
Ashabi made this known during an interview, where she revealed that they plan to get married soon and she has no issues sharing him with other women.
She said; "He has done many things for me but what stands out the most is the care and support he gives me. I am not here for the material things. I have produced movies and made my millions before meeting him. I have been a self-sponsored student even before I met him. I have been carrying responsibilities way back.
"We have introduced our families and hope to get married soon. I am an entertainer and I have thought about getting married to him properly. I did not get pregnant by mistake. It was planned and I do not expect to have issues with any of his wives or other baby mamas.
"I see some comments that I want to snatch Portable but I am not here to snatch anyone. I am just a shareholder and I cannot take care of him alone because I have my career and child. I also want to work more and be famous."
Speaking on the believe that Portable is 'razz' the mother-of-one said; "One cannot judge his personality from his performance because that is what he does for a living and he has to put in his best and energy. As my man, he has always been calm and caring. He is always available when I want to talk to him and he is a great listener. Those are some of the things I like the most about him."
The post "I didn't get pregnant by mistake for Portable"– Baby Mama, Ashabi Simple appeared first on tooXclusive.
source
https://tooxclusive.com/i-didnt-get-pregnant-by-mistake-for-portable-baby-mama-ashabi-simple/