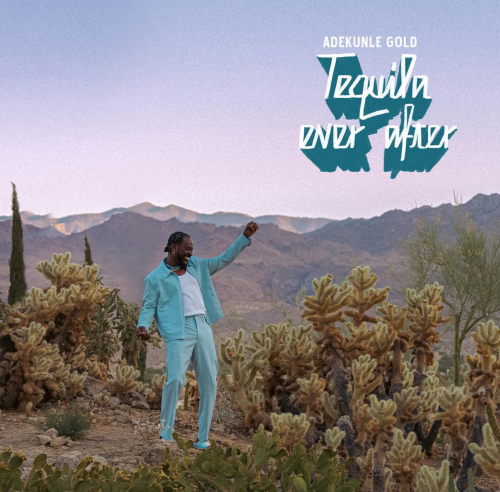 One of the most anticipated album of 2023 is finally out, Titled "Tequila Ever After"- Adekunle Gold takes music listeners on a long & fun journey.
For his fifth studio album Tequila Ever After, singer Adekunle Gold arrived at a formula for recording sessions: "It is about where I am mentally, What is my soul saying? What is my life at that point? What am I feeling? What vibe am I on? What sounds am I enjoying?" The title is a reference to Gold's new- found love for tequila, the Mexican staple which he discovered during trips to Los Angeles, where the majority of this album was recorded.
On Tequila Ever After, Gold's new affair with tequila and therapy-inspired sessions are coupled with stellar collaborations with producers and artists who draw from Malian guitar blues, South African soul, Jamaican
dancehall and American pop and hip-hop. He jokingly describes the combination as "Afrobeat Pro Max" a bigger and better version of his previous albums.
"I hope people enjoy life more. I know it's crazy to say that in a world where people are dealing with a lot of things, but l've learned that it's not the event, it's how you react to it. And l've chosen to react to life as 'Tequila Ever After' and I hope that you do as well."
Tequila Ever After consists of 18 solid tracks, featuring Odumodublvck, Pharrell Williams, Simi, Khalid, and many more. LISTEN & ENJOY!
"Chasing Peace Of Mind"
"PARTY NO DEY STOP" (feat Zinoleesky)
"SORO"
"TIO BABY"
"OGARANYA"
"WRONG PERSON" feat Odumodublvck
"DON'T BE A BABY"
"DO YOU MIND"
"SISI GANJA"
"MAKE IT EASY"
The post Listen To Adekunle Gold New Album "Tequila Ever After" appeared first on tooXclusive.
source
https://tooxclusive.com/listen-to-adekunle-gold-new-album-tequila-ever-after/