Nigerian singer Michael Adebayo Olayinka, popularly known as "Ruger," has unintentionally unveiled his face, shattering the long-held belief that he concealed an eye defect beneath his signature eyepatch.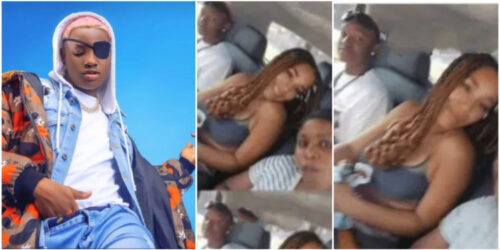 This revelation has ignited a whirlwind of reactions across social media platforms, leaving fans and followers astounded by the singer's true appearance.
Ruger, who hails from Kogi State and is under the banner of Jonzi Records, had consistently wearing an eyepatch over his left eye in both his music videos and public appearances.
This choice led many to speculate that the artist might be concealing an eye ailment.
However, a recently surfaced video has challenged this prevailing misconception. In the footage, Ruger is seen seated in a car alongside two ladies, casually without his iconic eyepatch.
The video lays to rest any false narratives surrounding his eye condition, as it clearly showcases that Ruger possesses no eye defect and can see perfectly with both eyes.
After a brief moment without the eyepatch, Ruger eventually returns to wearing his signature shade.
This revelation has sent shockwaves through the internet, causing Ruger's fans and admirers to express their astonishment and newfound admiration for the singer's unmasked appearance
Netizens Reactions…
Jezzue reacted: "See fine face. So na that thing you dey hide since."
its_rowl said: "Thought he said his eye patch is a sign of respect for someone.
@nogoodadvise_ reacted: "Na to come put blow for d eye make e condemn properly."
@adedamola_tomi said: "He no con resemble ruger without the shade."
The post Reactions as Ruger Mistakenly Exposes Face Without Eyepatch (Video) appeared first on tooXclusive.
source
https://tooxclusive.com/reactions-as-ruger-mistakenly-exposes-face-without-eyepatch-video/