Emmanuel Myam, the spirited cyclist from Benue, also known as Emmiwuks, has just dished out a sizzling update in his relentless pursuit to come face to face with his music idol, the one and only Davido.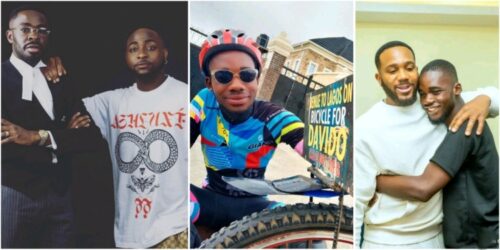 The fervent devotee of the Singer, our intrepid cycling aficionado, triumphantly landed in Lagos on the auspicious evening of Friday, August 18, 2023. From that very moment, he has remained in eager anticipation, poised for a long-awaited encounter with Davido.
However, fate played a fickle hand as Davido swooped into Lagos briefly, only to jet off overseas for a dazzling Dubai concert, their paths never intertwining.
In an exclusive tête-à-tête with Silverbird TV, Emmiwuks faced a barrage of inquiries delving into the strategic machinations he has artfully devised in his relentless quest of meeting with his revered musical demigod.
In his response, Emmiwuks mentioned that he connected with Kiddwaya, a friend of the singer, and discussed the possibility of meeting Davido. Emmiwuks explained that Kiddwaya was surprised they hadn't met yet and promptly called Davido's lawyer, Bobo Ajudua, informing him of the situation, the singer's Lawyer asked him to wait.
Emmiwuks then shared that a member of Kiddwaya's team later contacted him, saying that Davido was currently available but had left Lagos for a show in Dubai.
The Cyclist, according to him, was given two options: to wait for an in-person meeting or to have a video call with Davido. Emmi Wicks expressed contentment with either option, emphasizing his desire for a one-on-one conversation with the Singer.
He further stated that he's still eagerly waiting for the video call to take place. When asked about his keen interest in meeting Davido, Emmiwuks explained that he not only wants to present a gift but also hopes to collaborate with Davido on a remix of his song.
Emmiwuks playfully added that even if Davido just lends his famous slang to the remix, he would be more than satisfied.
WATCH HIS INTERVIEW BELOW
The post What I really want from Davido – EmmiWuks Spills appeared first on tooXclusive.
source
https://tooxclusive.com/what-i-really-want-from-davido-emmiwuks-spills/